Leonard Weiss
Assistant Director and Conductor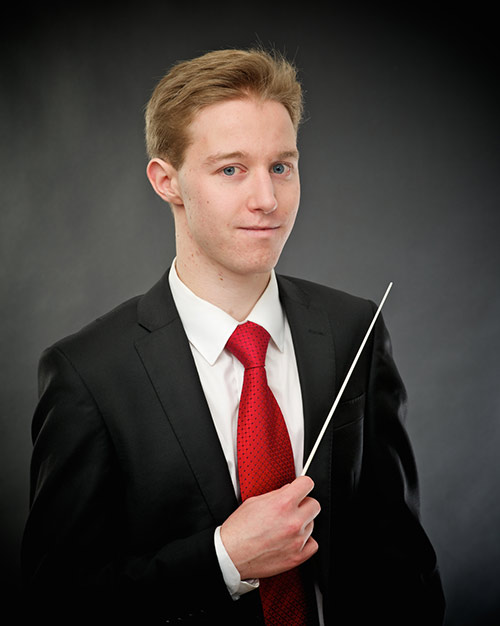 Leonard Weiss is an award-winning composer, conductor and performer. An ACT Finalist for Young Australian of the Year 2016 for his musical work locally and abroad, Leonard has also recently been appointed as the Australian National University's Course Convenor and teacher for the Classical H-Course (formerly "Type 1") pre-tertiary program.
Leonard holds a Bachelor of Music from the Australian National University and a Master of Teaching from the University of New England. Leonard has studied conducting in master classes with the Sydney Symphony Orchestra and with Richard Gill OAM, and has conducted concerts abroad including conducting in Dublin in June 2014. His upcoming conducting engagements include conducting the 67th Australian Intervarsity Choral Festival in July 2016.
In addition to conducting the Maruki Community Orchestra, Leonard is well-known in Canberra for conducting the National Capital Orchestra, the Canberra Youth Orchestra, the Musica da Camera string orchestra, the Canberra Qwire, and the ANU Choral Society. He is also the Musical Director/Répétiteur for Pied Piper Productions and Director of a number of ensembles in several schools across the ACT. His recent conducting successes include masterclasses with The Idea of North and local ensemble Shades of Monday, as well as conducting an Opera Gala wherein he conducted the National Capital Orchestra, Canberra Choral Society, ANU Choral Society and the Dante Musica Viva Choir, together with soloists Louise Page OAM, Rachael Duncan, Jeremy Tatchell and Steve Amosa, which raised over $40,000 for the Newborn Intensive Care Foundation.
A multi-instrumentalist, Leonard has performed solo carillon recitals in the USA and throughout Europe, including performing at Princeton University in July 2015 as part of the Guild of Carillonneurs in North America's summer recital series, and performing solo concerts in the 2015 Canberra International Music Festival and 2016 Australia Day celebrations. In an orchestral setting, Leonard can often be seen performing on harp or French horn; both of which he has performed in concerts throughout Europe as well as previously with the Canberra Youth Orchestra. Leonard has performed in the Canberra Theatre as well as across the country in the Sydney Opera House and in Perth, Melbourne and Brisbane.
Leonard is a regularly commissioned composer, having had his works performed in Europe, the USA, and throughout Australia. His recent composition awards include the Mix 106.3 Award for Best Original Score at Lights! Canberra! Action! in 2014. His popular compositions include a soundscape to unveil Musica Viva's 2015 concert season, and numerous works for solo carillon and for chamber ensembles.
Leonard has a relatively busy musical schedule in 2016, typically conducting one or more major choral or orchestral concert each month. For more information on Leonard's upcoming performances or compositions, visit www.LeonardWeiss.com.
More...