Our vision
Providing an opportunity for Canberra musicians who share a love of the making of beautiful classical music, so that they may grow, shine and expand their love, passion and capability for playing their instrument.
Our mission
To provide a process by which Canberra amateur musicians can develop greater awareness of the wonder of performing classical music, achieve the disciplines and experience of playing in an orchestra and in doing so, entertain audiences of all backgrounds and ages both in Canberra and further afield. MCO fills the gaps between Canberra Youth Music's orchestras (supporting those under 23 years of age), National Capital Orchestra, the University of the Third Age Orchestra and the Canberra Symphony Orchestra.
In terms of community involvement, access, participation and the engagement of audiences throughout our region we aim to perform the most wonderful repertoire to the best of our ability.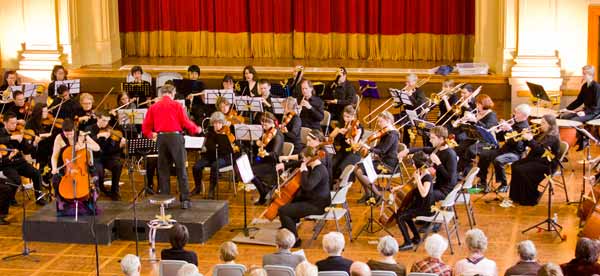 Who is MCO for?
MCO is for any musician in our region who plays a musical instrument suitable to be included in a Symphony orchestra, which includes strings, brass, woodwind and percussion.
We welcome the application and interest of any person who is willing to attend our rehearsals and be involved in a community orchestra. This is not dependent on audition - we would love to have you come along prior to joining to try us out. In that way we can jointly discover each other's value and capabilities!
What does "Maruki" mean?
The word "Maruki" means "harmonious energy" - where, like boulders in a strong river, the players are rounded and buffeted to become smooth harmonious pebbles. At MCO we give all musicians the opportunity to play in a full symphony orchestra and through extensive teaching and playing experience by the musician management, build the musical, performance and instrument skill level up to a high "polished" standard - to be the best we can be.
<