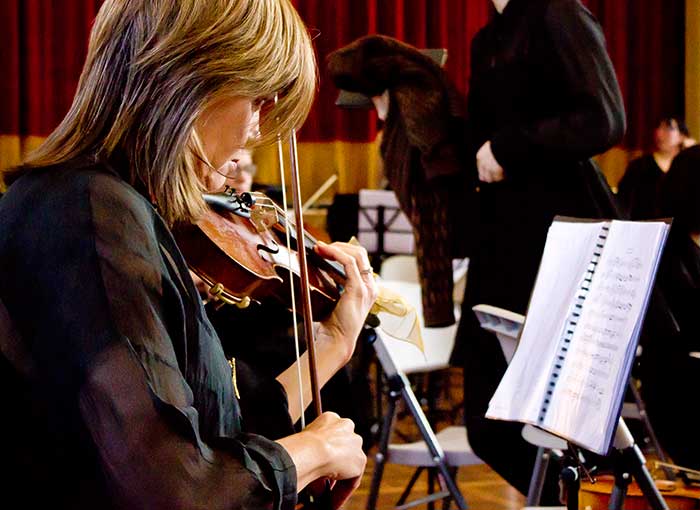 While we all share a love of music and meeting the great masters of music, we also share the verve of community spirit and friendship.
MCO has attracted a great many like-minded people who are both passionate about music and friendly with it. For many it is a very different experience from other ensembles and orchestras they have played in; also for many it is the only orchestral experience they have had. But all of us agree that it is a wonderful thing we do.
We are an eclectic lot, ranging in age from 12 to 80; from little musical experience to professional musician.
The MCO is a "true" community orchestra - fully inclusive, and is very much representative of the community - many levels of skills and abilities working in harmony together. The more skilled within the orchestra help the less skilled - that is what good communities do. We work together for a common goal and we forgive those who play out of tune or miss cues. We learn from our mistakes, we encourage each other and we play the notes we can play; we strive and stretch and try hard to reach and understand the music that was written. Not simplified versions... but the real music.
Here is what one of our members, Lucy, wrote:
"...The innovative environment of the MCO is like no other I have ever experienced either in Canberra or elsewhere. The positive, encouraging and inclusive atmosphere under which it is organised and masterfully directed has allowed me and a great many others achieve seemingly impossible musical feats. As a musician, the joy and satisfaction I get out of preparing and performing in this environment strengthens and reinforces my development as a musician in a most positive sense.
The inclusive ideals of the orchestra touch not only those that are in the orchestra, but all those who come in contact with the MCO through its many and various appointments in the community. The constructive way in which the MCO functions sets an extremely positive example for the broader community. The MCO reaches a broad range of people in the community through performances at multicultural festivals and museums, to nursing homes and community centres.
I am not aware of any other orchestras in the Canberra area that function under such positive core values as the MCO, however, I would very much like the MCO to be used as a template for future orchestras. This is because I have seen the wonderful effect that an orchestra of this kind can have on broadening both audiences and players' perception of what a 'classical orchestra' is and the benefit it is capable of achieving in the community..."